MRS Microraft Hybrid Deck
MRS Microraft Hybrid Deck is a packraft well suited for hiking, fishing, geocaching or just paddling! It's a lightweight and durable allrounder. Now it's available with an advanced Hybrid Spraydeck (you'll find the velcro version here).
MRS Microraft got sewn and heat-welded seams and all of MRS packraft is made out of urethan coated nylon which is UV-resistant, durable, and flexible in low temperatures.
This packraft is delivered together with spare repair material (no glue) and a bag to inflate the packraft. It also comes with a hybrid deck.
We strongly suggest that you add a Patch n' Go Kit to your order, as it is not included.
Spraydeck
MRS Microraft Hybrid Deck is equipped with a hybrid spraydeck (dual spraydeck), a frame and a skirt. When needed, for example in dry or hot climate, the hybrid deck can be rolled and attached to the bow of the boat to create an open climate. If you paddle through wet environments or heavy rain, the hybrid spraydeck is easy to reattach, and will provide close to 100% waterproofness together with the frame and skirt. It will also protect against the cold.
MRS Microraft Hybrid Deck has a removable and adjustable backrest, which makes the packraft well suited for paddlers of different lengths.
Materials
Tubes: UPN35 Nylon 210D/67T*55T 90 A Ester TPU double.
Floor:UPN35 Nylon 420D/67T*55T 90 A Ester TPU double.
Seat: Nylon 210D/118T laminated.
Deck: 70D Ripstopnylon.
MRS are fully involved in the development process of the materials used, and has its own product development. The TPU material used exclusively by MRS is developed in close collaboration with a large American company with the aim of offering customers the highest possible quality.
ISS (Internal Storage System)
The packraft come preinstalled with the ISS (internal storage system) and two large drybags. ISS is essentially a TiZip zipper on the rear of the boat. You can use the zipper to store things inside the tubes of the packraft. This allows A LOT of geat to be brought on your adventures, without having to sacrifice space on the floor or bow of the boat.
MRS uses TiZips best zipper, Masterseal 10. It is pressure proof up to 500 mbar, which means it is totally safe, completely waterproof and airtight.
ISS main advantages are:
You can store a lot of gear inside the packraft
The things you store within ISS will always remain dry.
Lower point of gravity makes for a more comfortable and stable ride.
More space where you need it, e.g. where you sit.
The main disadvantage of the system is that you cannot access the gear stored inside of the ISS without letting the air out of the packraft. That is why we recommend the ISS for storing camp-related things, such as tents, sleeping bags, spare clothes, water and food for the days to come.
Packed size & weight
The packed size of the MRS Microraft is ~40x20cm.
Size
Medium is best suited for packrafters between 175 cm and 190 cm.
Large is best suited for packrafters above 190 cm.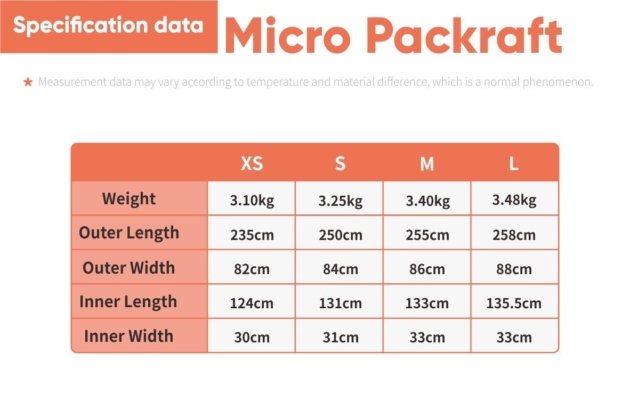 Max load capacity
XS: 151 kg (332 pounds)
Small: 168 kg (370 pounds)
Medium: 178 kg (392 pounds)
Large: 190 kg (419 pounds)
What is included?
The packraft is delivered with spraydeck, skirt, coaming, ISS, repair material (not glue), inflation bag, seat and backrest.
Product manual
Recommended Accessories
Warranty
3 years