Luxe Outdoor F8e winter shelter
Luxe Outdoor F8e is a floorless tent for four people that can be used all year round. The tent really shines when used in conjunction with a stove, as it is supplied with a fireproof stove jack for the chimney.
With its coarse weave (40D / 260T ripstop nylon), the tent is extremely durable and can withstand the toughest of weather conditions including rain, snow and strong wind.
If you are going to use the tent together with the stove, we recommend that there are a maximum of 3 people in the tent.
Please note that pole, inner tent and floor are not included as standard.
Size and design
Luxe Outdoor F8e is a tipi tent, which means that the tent has a very high resistance to strong winds. The tent is equipped with 16 ground fixing points for tent pegs and a large entrance door. Along the ground and above the door there are ventilation openings (all ventilation openings are insect proof). A snow skirt runs around the bottom edge of the tent, allowing you to shut out drifting snow or drafts in inclement weather. Inside the tent there are 2 parallel elastic bands that facilitate pitching.
High up on one side of the tent is the stove jack for the chimney for your stove. If you do not intend to use the stove in the tent, it is of course possible to cover the stove jack with the included piece of tent cloth that you attach to the tent.
The tent is 185 cm high at the highest point. The inner length is 340 cm (see picture below).
During the colder parts of the year, stoves are a great addition to this tent. It enables comfort and warmth even in really grim conditions.
Worth mentioning is that the tent is not delivered with pole, floor and inner tent. If you need flooring and insect protection, you use different types of protective surfaces (footprints) and/or separate mosquito nets, which are available to buy in a variety of variants and price ranges. See "recommended accessories" below.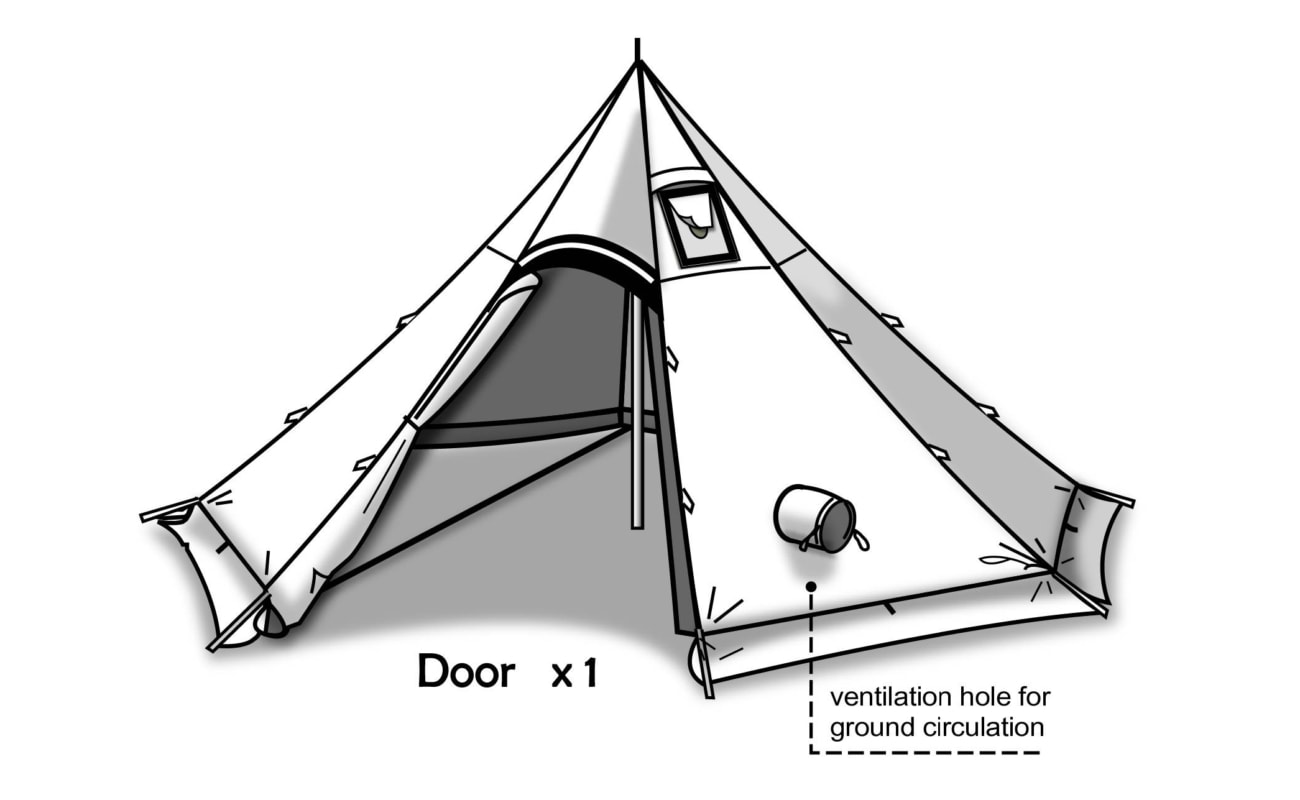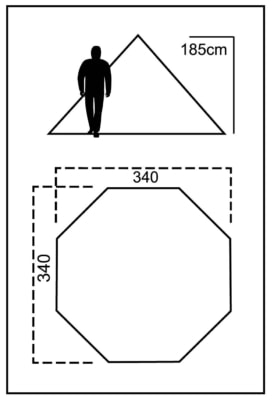 Material
Tent: 40D / 260T ripstop nylon but one side siliconized
Seam sealing
The tent seams of the Luxe tents are not seam-sealed from the factory. The purchase includes seam sealer, which is specially manufactured for the purpose. Seam sealing is easiest done by pitching the tent on a rain-free day (be sure to tension the tent tightly, so that the seams are properly tensioned) and seam seal all the seams from the outside of the tent using a small brush or with your finger.
Weight
Tent: 1650 grams
8 tent pegs: 112 grams
Stove jack: 95 grams
Total weight:  1857 grams
What is included?
Luxe Outdoor F8e is delivered together with 8 tent pegs, installed chimney feed-through and a tube of seam sealer.
Please note that pole, inner tent or floor/half floor are not included but can be purchased separately.
Recommended accessories
Luxe Outdoor TP-197x pole for Luxe Outdoor F8e
Luxe Outdoor Hex v8 inner tent for F8e
Luxe Outdoor F8 inner floor för F8e
Lawson Equipment – reflective guy line 15m