MRS Adventure X2 ISS
MRS Adventure X2 ISS is a large packraft for lots of gear or two paddlers. Also featuring the ISS, internal storage system.
This packraft is made for two persons, but it is also a good alternative for the single paddler who needs to bring a lot of gear, for example anglers or bikerafters. X2 has a comfortable, adjustable front backrest. Both front and rear paddle positions have backrests and comfortable seats.
The recommended paddle type for this kind of packraft are the multipaddles, as you can use them both for single sessions (kayak paddle) and together with a friend (as two canoe paddles).
MRS Adventure X2 got sewn and heat-welded seams.
The Adventure X2 can be delivered with or without a completely removable velcro spraydeck.
Every MRS packraft is made out of urethan coated nylon, which is UV-resistant, durable, and flexible in low temperatures.
This packraft is delivered together with spare repair material (no glue) and a bag to inflate the packraft. It also comes with two comfortable seats, an extra seat and a backrest. Now also featuring the very popular ISS, internal storage system TiZip. 2 drybags comes together with the already installed ISS system. Spraydeck is included in the spraydeck version.
We strongly suggest that you add a Patch n' Go Kit to your order, as it is not included.
Fin
The packraft is delivered with an installed (and removable) fin for better tracking and higher max speed.
ISS (Internal Storage System)
Every MRS Adventure X2 is delivered with a preinstalled ISS, internal storage system and two large drybags (130*30 cm). ISS is essentially a TiZip zipper on the rear of the boat. You can use the zipper to store things inside the tubes of the packraft. This allows A LOT of geat to be brought on your adventures, without having to sacrifice space on the floor or bow of the boat.
MRS uses TiZips best zipper, Masterseal 10. It is pressure proof up to 500 mbar, which means it is totally safe, completely waterproof and airtight.
ISS main advantages are:
You can store a lot of gear inside the packraft
The things you store within ISS will always remain dry.
Lower point of gravity makes for a more comfortable and stable ride.
More space where you need it, e.g. where you sit.
The main disadvantage of the system is that you cannot access the gear stored inside of the ISS without letting the air out of the packraft. That is why we recommend the ISS for storing camp-related things, such as tents, sleeping bags, spare clothes, water and food for the days to come.
Materials
Tubes: UPN35 Nylon 210D/67T*55T 90 A Ester TPU singlecoated
Floor:UPN35 Nylon 840D/67T*55T 90 A Ester TPU singlecoated
Seat: Nylon 210D/118T laminated
MRS are fully involved in the development process of the materials used, and has its own product development. The TPU material used exclusively by MRS is developed in close collaboration with a large American company with the aim of offering customers the highest possible quality.
Packed size
The packed size is ~40x30cm.
What is included?
The packraft is delivered with ISS, skeg and mount, repair material (not glue), inflation bag, seats and backrests.
Recommended accessories
Patch N Go Kit – rapairkit for your packraft
ROK Straps – easily attach your gear to the packraft with these straps
Flextail Pump – a small, battery driven, pump that easily inflates your raft
Stormsure – to repair small pinholes etc
Tectis Sitko Flex – Repair tape that can repair everything. Sort of.
Weight & Size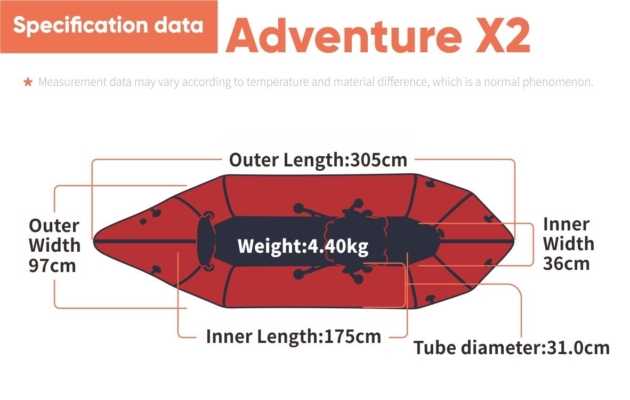 Product manual
Warranty
3 years