Seek Outside Titanium Wood Stove
Seek Outside Titanium Wood Stove is an ultralight wood stove for tents and tipis made out of titanium. Stove pipe is not included, it is sold separately.
Titaniums superior burn characteristics and weight make it the ideal material to construct a lightweight wood stove form when weight, portability and performance are the primary goals. These stoves assemble easily, and dissasemble to nearly flat and the stove pipe rolls up into a cylinder. Due to titaniums heat transfer efficiency, these are capable of heating your tent when it's really cold out and can keep coals for hours.
We are offering those stoves in two different sizes. The size medium stove is best suited for the Seek Outside Silvertip 2-man tipi, and the Large stove is made for bigger tents, for example the Seek Outside Cimarron and the Seek Outside Redcliff.
The stoves can of course be used in any tent made for wood stoves (which has a dedicated wood stove jack). If you want to use the stove in a Tentipi tent, you want to consider buying a Winnerwell Tent Protector together with your stove.
Recommended stoves for Seek Outside shelters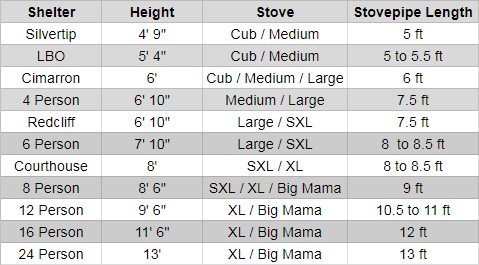 Good to know
When you use the stove you have to make sure that there are no items such as backpacks or sleeping bags close by (or dry materials under the stove), and you also have to make sure that fresh air can enter the tent somehow. Your tent needs a special stove jack. Make sure your opening is safe for stove pipes. All of our Seek Outside tents got a stove jack installed.
The first time you use your new stove, it requires a "burn in". The burn in will help the material to find its final shape. This is especially important for the stove pipe. The first time you roll up the stove pipe it can be quite hard, but after the burn in, it will be a lot easier and so easy that it can be done alone in about 2-3 minutes. This link will take you to a youtube video where you can see how to roll the pipe before the first burn in.
It is important to clean the stove, spark arrestor and pipe thoroughly from soot and ashes between uses to eliminate creosote build up.
In very strong winds, we recommend NOT using this type of lightweight stove, as there is a risk that the chimney may fold and thus cause damage to the tent or in the worst case fire.
What to Expect:
Stoves add comfort, the ability to dry gear, and gives cold weather trips an element of enjoyment and fun that is lacking without the stove.  They allow you to go to bed warm and dry, and to warm up first thing in the morning.  They can also extend or replace cooking fuel weight.
They don't however, replace sleeping gear insulation.  The stoves burn hot and fast, but to keep the temps up they need to be fed regularly.  So if you have a forecast for 0° then you should have a 0° rated bag, unless you want to stay up all night stoking the fire.
Longer burn times require larger wood.  If you prep larger wood you can get through the night with 3-4 stokings.  In our opinion a good beefy knife for batoning rounds and a good quality folding or lightweight saw are all the tools you need for wood prep, and are superior to a hatchet or axe for most users.
Size of wood stove and pipe
Medium stove: 8 x 8 x 10,25 inch. 12 inch height assembled.
Large stove: 8 x 8 x 14 inch. 12 inch height assembled.
SXL stove: 8.25 x 10.25 x 14 inch. 12 inch height assembled.
Weight, stove and stove pipe
Weight of Medium stove including Damper, legs, hardware, and Storage bag, is 31 oz (879 grams). Stovepipe adds about 11 oz (300 grams).
Weight of Large stove including Damper, legs, hardware, and Storage bag, is 35 oz (990 grams). Stovepipe adds about 12 oz (340 grams).
Weight of SXL stove including Damper, legs, hardware, and Storage bag, is 40 oz (1134 grams). Stovepipe adds about 13 oz (369 grams).
Recommended accessories
Pipe
Ground mat
Tent Protector
Warranty
Defects in manufacturing and material for the practical lifetime of the product. Damage due to wear and tear or misuse will be repaired for a reasonable charge.
Instructional videos