MRS Microraft
MRS Microraft is a packraft well suited for hiking, fishing, geocaching or just paddling! It's a lightweight and durable allrounder.
MRS Microraft got sewn and heat-welded seams and a fully detachable cruiser spraydeck. The cruiser spraydeck gives a good protection against rain and cold but is not 100% waterproof. Instead it gives you the option to remove it all on warm summer days.
Every MRS packraft is made out of urethan coated nylon which is UV-resistant, durable, and flexible in low temperatures.
This packraft is delivered together with spare repair material (no glue) and a bag to inflate the packraft. It also comes with a detachable cruiser spraydeck.
We strongly suggest that you add a Patch n' Go Kit to your order, as it is not included.
Materials
Tubes: UPN35 Nylon 210D/67T*55T 90 A Ester TPU double.
Floor:UPN35 Nylon 420D/67T*55T 90 A Ester TPU double.
Seat: Nylon 210D/118T laminated.
Deck: 70D Ripstopnylon.
MRS are fully involved in the development process of the materials used, and has its own product development. The TPU material used exclusively by MRS is developed in close collaboration with a large American company with the aim of offering customers the highest possible quality.
Packed size & weight
The packed size of the MRS Microraft is ~40x20cm.
Size
Extra Small is best suited for packrafters up to 165 cm.
Small is best suited for packrafters between 165 and 175 cm.
Medium is best suited for packrafters between 175 cm and 190 cm.
Large is best suited for packrafters above 190 cm.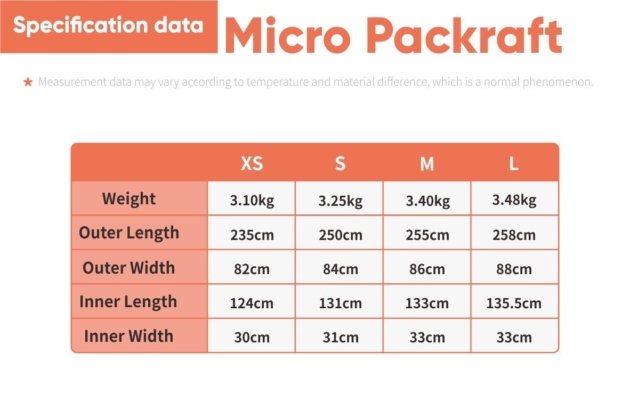 Product manual
Recommended Accessories
Warranty
3 years