MRS Barracuda R2
The Barracuda R2 is a packraft for two persons. It's a long packraft with an extended waterline, which makes it especially suited for fast paddeling in both calm waters and white water. The long, pointy design and its symmetrical and slightly upturned bow and stern makes it the fastest MRS packraft of today.
The Barracuda R2 is great for long distance paddeling, multi/adventure sports and races, white water and expeditions, but will of course also work great at the calm fishing trip at the lake at your back yard together with your son, daughter or why not the dog. The packaft has got no spraydeck.
The Barracuda R2 can be paddled alone with a kayak paddle, or together with a friend using either two kayak paddles or two canoe style paddles. We recommend our multipaddles for this kind of packraft.
ISS (Internal Storage System)
The packraft is equipped with preinstalled ISS (internal storage system) and two large drybags (130*30 cm). ISS is essentially a TiZip zipper on the rear of the boat. You can use the zipper to store things inside the tubes of the packraft. This allows A LOT of geat to be brought on your adventures, without having to sacrifice space on the floor or bow of the boat.
MRS uses TiZips best zipper, Masterseal 10. It is pressure proof up to 500 mbar, which means it is totally safe, completely waterproof and airtight.
ISS main advantages are:
You can store a lot of gear inside the packraft
The things you store within ISS will always remain dry.
Lower point of gravity makes for a more comfortable and stable ride.
More space where you need it, e.g. where you sit.
The main disadvantage of the system is that you cannot access the gear stored inside of the ISS without letting the air out of the packraft. That is why we recommend the ISS for storing camp-related things, such as tents, sleeping bags, spare clothes, water and food for the days to come.
Materials
Tubes: UPN35 Nylon 210D/67T*55T 90 A Ester TPU double.
Floor:UPN35 Nylon 840D/67T*55T 90 A Ester TPU double.
Seat: Nylon 210D/118T laminated.
Deck: 70D Ripstopnylon.
Every MRS packraft are made out of urethan coated nylon which is UV-resistant, durable, and flexible in low temperatures. They also have sewn and welded seams.
MRS are fully involved in the development process of the materials used, and has its own product development. The TPU material used exclusively by MRS is developed in close collaboration with a large American company with the aim of offering customers the highest possible quality.
Primary use

The Barracuda R2 can be used on both calm waters and white water. If you like long distance paddling with two people over extended periods of time, the Barracuda R2 is your best choice.
Size & weight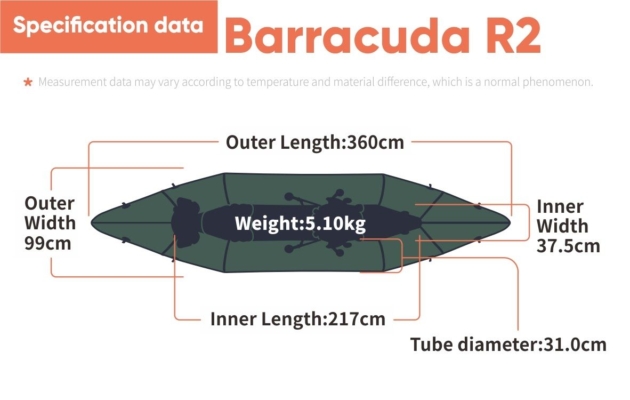 User length
One size fits all.
Warranty
3 years
What's included?
The Barracuda R2 is delivered with repair material (no glue), inflation bag, fin and fin mount, seats, backrests, and a strap.
Recommended accessories
Patch N Go Kit – rapairkit for your packraft
ROK Straps – easily attach your gear to the packraft with these straps
Flextail Pump – a small, battery driven, pump that easily inflates your raft
Stormsure – to repair small pinholes etc
Tectis Sitko Flex – Repair tape that can repair everything. Sort of.
Product manual