MRS Ponto
MRS Ponto are simple and clean packrafts without spraydeck. It's the bigger brother of MRS Tulo. Ponto are made out of the same strong and robust materials as every other MRS packrafts.
Ponto is especially suited for people that demands a little more comfort and space. Maybe you need to bring that big pile of wood on your next adventure, or why not your bike? Ponto is the ultimate packraft when you are solo, but need to bring a lot of stuff, a dog or a bike. Or maybe you just want that extra space all alone.
Ponto is suitable for calm water and easy white water (class 1-2).
To save weight and volume, and to make it easier to manage gear, dogs and bikes, Ponto is delivered without spraydeck.
Every MRS packraft are made out of polyurethane coated nylon, which is a material that is UV-resistant, tear-resistant, very tolerant for ageing, and also flexible in low temperatures. The packrafts have sewn and welded seams and are handmade.
We strongly suggest that you add a Patch n Go Kit to your order, in case of repair needs.
Materials
Tubes: UPN35 Nylon 210D/67T*55T 90 A Ester TPU double
Floor:UPN35 Nylon 420D/67T*55T 90 A Ester TPU double
Seat: Nylon 210D/118T laminerad
MRS are fully involved in the development process of the materials used, and has its own product development. The TPU material used exclusively by MRS is developed in close collaboration with a large American company with the aim of offering customers the highest possible quality.
Size and weight
Packed size about 50×20 cm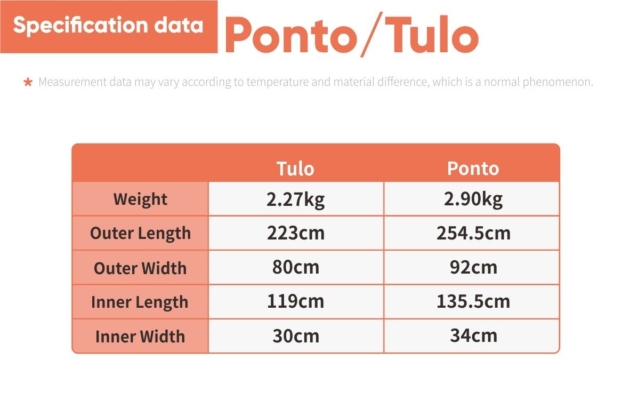 User length
Ponto, is suitable for a solo paddler of any length, with a smaller dog and normal gear load.
Warranty
3 years
Product manual
Whats included?
Repairmaterials (no glue however), inflation bag, seat, backrest and a strap.
Recommended Accessories